Just like Grandma used to make it. It's the least I could do in return for Julia's gracious hospitality.
1 Quart Strawberries
1 Cup Sugar
Hull and slice strawberries. Mix them with the sugar in a bowl and refrigerate for 1 hour.
2 Cups Flour
2 TBSP. Sugar
3 tsp. Baking Powder
1 tsp. Salt
1/3 Cup Butter
1 Cup Milk
Extra butter and real whipped cream
Preheat oven to 450 degrees. Grease round layer cake pan (8x1"). Stir together the flour, 2 TBSP. sugar, baking powder, and salt. Cut in the butter. Stir in the milk until just blended. Spread dough in pan and bake for 15-20 minutes, or until golden brown. Let cool. When cool, split the biscuit in half horizontally and spread with butter or margarine. Cut into portions, and spoon the berries into the center and on top. Top with real whipped cream.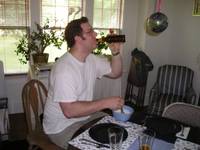 The way real men whip cream! (Matt)
Go to Strawberry Heaven!
the Shortcake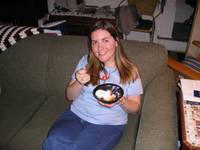 Mmmm! Julia wolfing down the shortcake. It was gone in roughly 30 seconds.
Julia and me - post food-gasm.