When I still lived in
Cleveland
, I religiously watched
Fox 8 News
every evening.
A couple of years or so ago (maybe longer - my memory is a little foggy), CBS 19 News switched formats. When this happened, I thought, "eh, I'll give them a try. Maybe it'll be good." Well, the new
19 Action News
format was certainly, um,
different
. And by different I mean scandalously and unprofessionally different. So much so that I occasionally tuned in for the mere entertainment value of the reporting itself, not the stories.
We're talking botched stories, one after the other (
Julia
and
Matt
can attest to this - they've watched it while visiting). While an anchor was reporting on one story, news footage from something completely unrelated would be rolling in the foreground. Sometimes it was dead air with news footage, sometimes reporter commentary with a black screen. And this happened daily, more often than not.
Usually, the reporting focused the most heavily on the more nefarious things happening around town...anything involving crime, sex, drugs, violence, etc., but mostly sex. It's like Cleveland's local version of Access Hollywood. Sort of. So, when
Spencer Tunick
came to town, 19 Action News jumped all over the story.
Spencer Tunick has gained international notoriety for photographing masses of nude people in various urban locales...including in front of the UN General Assembly in New York City: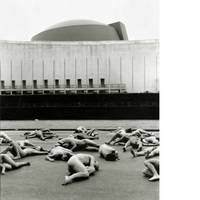 Now, I first heard about Spencer Tunick on
NPR
(I also listen to NPR religiously) on
This American Life
with Ira Glass. (Incidentally, this is the program which probably catapulted David Sedaris, another of my favorites, to fame.) Anyway, given the nature of NPR programming, one can imagine that any potentially 'shocking' story was broadcast with grace and aplomb.
Not so in Cleveland, which begs the question, "Is it art or is it something else?"
Over the summer,
more than 2,700 people braved temperatures in the 50s and a 4 a.m. start time to take part in a nude photo shoot Saturday at a park behind the Rock and Roll Hall of Fame and Museum along Lake Erie
. This story is innocent enough. However, Julia directed my attention to
this story
. It seems the station's own
Sharon Reed
not only reported on the story, but also
participated in the photograph
, while the station's cameras filmed the entire installation process. Consequently, the streaming video feed on the 19 Action News website provides readers with a teaser of the experience.
Imagine a lascivious-sounding female voice:
"If you were asked by a world-famous artist to pose nude, COMPLETELY naked, would you?"
Personally, I love contemporary art in all forms and facets, including nude photography. Give me Robert Mapplethorpe any day. I think Spencer Tunick, while not terribly original, is indeed an artist, and that his photographs are extremely artistic. To me, these photographs represent raw human vulnerability and really, the connection we all have to one another as people.
19 Action News managed to turn art into defamation when it portrayed Tunick's record-breaking* photograph as soft-core porn.
Feel free to comment.
*previously the greatest collection of nude people for one of his photos - 2500 - was in Montreal